This page is a tribute to Douglas Engelbart, with the hope that his vision is picked up by more and more people. This is important to me, because he was not only a brilliant inventor. He was first and foremost a man with a wonderful vision and an excellent goal in life.
Below are pointers to excellent articles and video's about Doug and his work.
This is the first version of this page, at the occasion of Bart's talk at the #valueconf19 Intranet conference in Brussels on May 23th 2019.
Interested in the future evolution? Then keep an eye on this page, subscribe to our newsletter, and/or follow us on Twitter: @bartvanroey and @ihop_be.
Augmenting intellect: his 1962 research paper
The research paper on the site Doug Engelbart institute, with annotations from 2019.
The same document, but then with on top of the text, annotations annotated of 2019, via Hypothesis. All info about this annotation project, can be found on this Thoughvectors site.
Mother of all demo's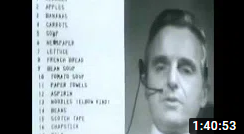 You can find more versions of this demo on YouTube via this search string: mother+of+all+demos
Recent articles building on his work