Dit jaar heb ik al bijna 100 mensen geïntroduceerd in deze fantastische (gratis) tool: Microsoft OneNote. Ja, natuurlijk heb ik ooit nog MS Word gebruikt, en sinds mijn eerste iPad was ik een grote fan van Evernote. Maar dan kwam ik begin 2014 OneNote tegen… en nu doe ik alles onmiddellijk en uitsluitend in OneNote.
Natuurlijk nota nemen tijdens vergaderingen (online en live), maar ook mijn todo's bijhouden, blogposts schrijven enz. Zelfs mijn offertes verwerk ik helemaal vanuit OneNote, want dat is ook een samenwerking met de (toekomstige) klant, en ik ken geen betere tool om samen te werken. Ken jij iets dat beter is? Laat het me weten, ik ben benieuwd. Voor mij heeft OneNote het mogelijk gemaakt dat ik niets meer op papier moet doen. Eindelijk

Wil jij graag starten met OneNote? Wil je dat vervelende papieren schriftje achterwege laten, want je kan er niets uit delen, niet in zoeken enz? Dan is deze opleiding zeker iets voor jou: op donderdag 15 september geef ik een introductie training over OneNote. Deze opleiding wordt georganiseerd door Wolters Kluwer en je leert er de vijf "key skills" : noteren, verzamelen, zoeken, delen en … sneltoetsen gebruiken… Na deze training ben je nog geen OneNote pro, maar heb je een uitstekende start om het efficiënt te gaan gebruiken.
Schrijf je nu in via de website van Kluwer. Noot: de opleiding kost 250 euro per persoon. Eventueel kan je gebruik maken van de KMO portefeuille.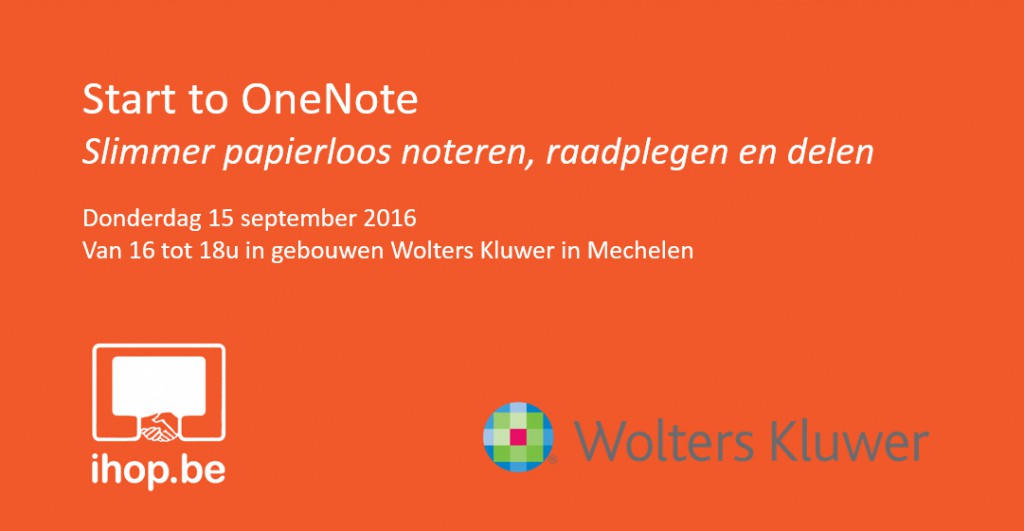 Als je graag een opleiding op maat hebt over OneNote (individueel of in groep, live of online) bel me dan even: 0468 266 123.