In de volgende maanden zal ik twee keer de opleiding "Start to OneNote" geven via   Wolters Kluwer. Dat doe ik met veel plezier, want ik ben een héél enthousiast gebruiker van dit programma, en deze tool past perfect in een digitale werkplek.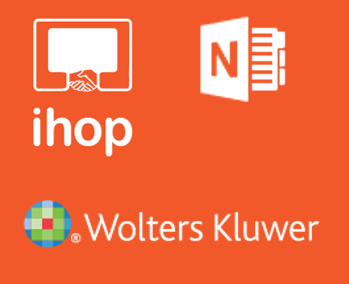 Op donderdag 28 april gaat de eerste sessie door, als open classroom training in de gebouwen van Kluwer in Mechelen. Je hoeft geen echte voorkennis te hebben: we starten met een inleiding: wat is OneNote, waarom past het binnen de digitale werkplek en waarom is het zo een sterke tool. Daarna gaan we één voor één de belangrijkste acties uitleggen en demonstreren. Het laatste deel van de opleiding is een algemeen oefen moment: er zullen oefeningen op de verschillende acties klaar staan, die iedereen op zijn tempo kan afwerken.
Deze OneNote opleiding duurt 2 uur, en wordt aangeboden aan 250 €. Daarna kan je zelf helemaal aan de slag met het programma.
Zowel live als online
Past 28 april (van 16 tot 18u) niet in jouw agenda, of kijk je op tegen de verplaatsing naar Mechelen? Dat is dit een oplossing: op 12 mei gaat een volgende sessie door, en die geven we dan ook online (waarschijnlijk via Skype). Inhoud en werkwijze zijn voor de rest wel gelijk. Wil je graag dit webinar bijwonen of de live training bijwonen: vul dan onderstaand formulier in. Heb je andere vragen in verband met OneNote? Stuur me een mailtje (bart at ihop punt b) of contacteer me via Twitter!
[contact-form][contact-field label='Naam' type='name' required='1'/][contact-field label='Email' type='email' required='1'/][contact-field label='Interesse in' type='select' required='1′ options='Live training 28 april,Online training 12 mei,Graag op een ander moment'/][/contact-form]